This is an old revision of the document!
---
Keeping your Windows 10 computer clean and up-to-date
Freeing up space and cleaning the computer
Removing the

(pre-)installed applications

that you think you don't need (you can always reinstall them later)

Warning

: some installed applications may make no sense to you, but they may have been installed by the sysadmins, or may be useful for your system. Get in touch with

help-lsce

if you are not sure
Updating Windows 10
Windows 10 updates and versions history
There are 2 major Windows 10 releases every year, a spring and fall version
e.g. Mise à jour de fonctionnalité vers Windows 10, version 21H2
Checking the installed version
Using Windows Settings
Using winver
Updating Windows 10
LSCE users:
January 2022 - Windows Update may tell you that your computer is ready to upgrade to Windows 11
Do not upgrade to Windows 11 yet!
Windows should automatically check for updates (this may depend on your settings), and display a notification when the computer can be updated.
You should also manually check for updates from time to time: Win+I (open Settings) ⇒ Update & Security ⇒ Windows Update ⇒ Check for updates
Check for updates, apply the updates, reboot, check for updates again and repeat until there are no more updates available.

At that stage, the installed version of Windows 10 should have the same (or close) version number as the latest one in

Windows 10 release information

(unless your computer is too old to install the latest major update)
Dell specific updates
HP specific updates
Execute HP SA for the first time and select to automatically check for updates, but to choose when the updates should be installed. It is probably safer not to automatically install updates

Check if there are recommended updates
Intel updates
You will probably receive all the driver updates you need through the Windows and Dell/HP updates, but in some cases, you may also want to check if Intel provides some updates (there could be some extra updates for your Intel processor, your Intel graphics card, your Intel WiFi/Bluetooth card, etc…)
Updating Microsoft Office
You need to activate the Office (and misc Microsoft software) update, if you want to get updates for some Microsoft products
Updating applications from the Microsoft Store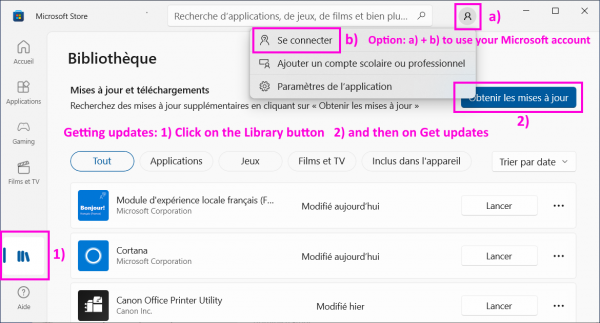 ---
[ PMIP3 Wiki Home ] - [ Help! ] - [ Wiki syntax ]
other/win10maintain.1652284962.txt.gz · Last modified: 2022/05/11 16:02 by jypeter